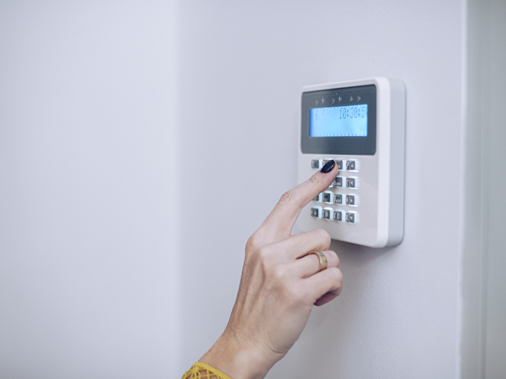 Protecting your home and loved ones is of utmost importance, and one of the most effective ways to do so is by investing in a reliable house alarm system. To avoid risks relating to incidents of property-related crimes, such as burglaries and break-ins, having a robust intruder alarm system in the Highlands is no longer a luxury but a necessity.
Logic Alarms understands the critical role of safeguarding your property and offers comprehensive intruder alarm systems in the Black Isle, Inverness, and beyond. In this blog, we will explore the key factors you should consider when choosing the right house alarm provider, to ensure your peace of mind and the security of your home.
Reputation and Experience: Ensuring Trustworthiness
The foundation of a trustworthy house alarm provider lies in its reputation and experience. These two factors are indicative of the provider's reliability, effectiveness, and commitment to delivering top-tier security solutions. Look for a provider with a proven track record of successful installations and satisfied customers.
A reputable house alarm provider has a reputation that precedes them. Their name is synonymous with excellence and dependability within the industry and the local community. To assess a provider's reputation, take advantage of online resources such as review websites, social media platforms, and industry forums. Reading firsthand accounts from customers who have benefited from the provider's services can provide valuable insights into the quality of their offerings.
Experience is the bedrock upon which expertise is built. A house alarm provider with a proven track record of successful installations and a history of adapting to the evolving security landscape is likely to have honed their skills and strategies over time. Look for providers that can demonstrate a considerable period of operation and a portfolio of projects that showcase their ability to address diverse security challenges.
Logic Alarms boasts years of experience, having served countless homeowners, as well as business owners, with their intruder alarm solutions. This experience enables them to anticipate potential risks, design effective systems, and offer tailored advice that caters to specific property layouts and vulnerabilities. By choosing an experienced provider, you're opting for a wealth of knowledge and a higher likelihood of a secure outcome.
Tailored Solutions for Your Property
Every property is unique, and its security needs are specific to its layout and vulnerabilities. A reputable house alarm provider should offer customisation options to ensure that your security system is tailored to your property's requirements. Logic Alarms recognises the importance of individualised solutions and collaborates closely with clients to design systems that provide comprehensive coverage. By addressing your property's specific weak points and strengths, a customised solution minimises potential blind spots and ensures optimal protection.
Additionally, integrating a house alarm with other security measures enhances overall protection. Logic Alarms excels in this area by offering solutions that harmoniously combine different security components. This synergy not only deters potential intruders with a visible and comprehensive security network but also allows for swift responses. By embracing integration with the likes of CCTV systems, you're maximising your property's security potential and bolstering its defences.
As technology advances, so do the capabilities of intruders. It's essential to choose a house alarm provider that embraces cutting-edge technology to stay ahead of potential threats. These innovations may include smart home integration, enabling you to control and monitor your security system remotely, mobile alerts that keep you informed about any security breaches in real-time and advanced sensors that detect even the most subtle movements. Logic Alarms is committed to integrating the latest innovations into our intruder alarm systems. By investing in a provider that keeps up with technological advancements, you're ensuring your property's security remains robust and up to date.
Monitoring Services: Swift Responses to Threats
A critical aspect of an effective house alarm system is its ability to elicit swift responses in case of an alarm trigger. Opt for a provider that offers 24/7 monitoring services. With round-the-clock surveillance, you can rest assured that your property is being watched over, whether you're at home or away.
Effective customer support can make a significant difference in your overall experience with a house alarm provider. Choose a company that values customer satisfaction and is readily available to address your inquiries and concerns. Logic Alarms takes pride in its exceptional customer service, ensuring that you have the support you need, whether you're seeking guidance during the installation process or troubleshooting an issue after setup.
Expert Installation of Intruder Alarm Systems
An outstanding house alarm system requires expert installation to ensure all components function optimally. A reputable company employs skilled technicians who understand the intricacies of security system setup. Proper installation ensures that sensors are strategically placed to cover entry points and potential access areas effectively. With the expertise of professionals, your house alarm system's performance is maximized, and the chances of false alarms are minimised.
Securing your property and ensuring the safety of your loved ones is a top priority. By selecting the right house alarm provider, such as Logic Alarms, you're taking a proactive step toward achieving peace of mind. With our extensive experience, cutting-edge technology, and commitment to customer satisfaction, Logic Alarms offers comprehensive intruder alarm systems in Inverness that can be tailored to suit your unique needs.
Don't compromise on security — contact us today to make the right choice for your home and family's protection.