Logic Alarms' innovative Mobile CCTV Trailers bring unmatched security and surveillance to any location. Whether it's a construction site, event venue, temporary workspace, or any area requiring vigilant monitoring, our Mobile CCTV Trailer is the answer.
Anywhere Setup, No Power Required
With our Mobile CCTV Trailer, you're no longer limited by power constraints. Whether it's a remote construction site or an event venue without nearby power sources, our self-sustaining system can be set up anywhere you need, ensuring comprehensive coverage in even the most challenging environments.
Hydrogen-Powered Efficiency
Powered by hydrogen bottles, Mobile CCTV from Logic Alarms operates efficiently and sustainably. This innovative approach not only reduces your environmental footprint but also guarantees continuous surveillance, making it perfect for locations where traditional power sources are scarce.
Versatile Power Options
Flexibility is at the core of our solution. The Mobile CCTV Trailer can seamlessly connect to 110V/230V power sources, allowing you to adapt to the power infrastructure of your specific site without any hassle.
Advanced Camera Technology
Equipped with four 8MP cameras boasting built-in analytics and infrared capabilities, our system provides crystal-clear video quality and intelligent monitoring. This ensures precise threat detection and real-time insights to keep your premises secure.
On-Board Storage
Your data is secure with us. Recorded images are stored directly within the trailer, providing a reliable backup, and ensuring that your valuable information remains on-site. This local storage ensures access to footage even during connectivity disruptions.
Remote Central Station Monitoring
Rest easy with our 24/7 remote central station monitoring. Our team of experts keeps a vigilant watch over your location, ready to respond swiftly to any potential security breaches.
Accessible Anytime, Anywhere
Stay connected to your surveillance system at all times. Through remote login, access live and recorded footage from the Logic Alarms Mobile CCTV Trailer using your smartphone, tablet, or desktop — regardless of your location.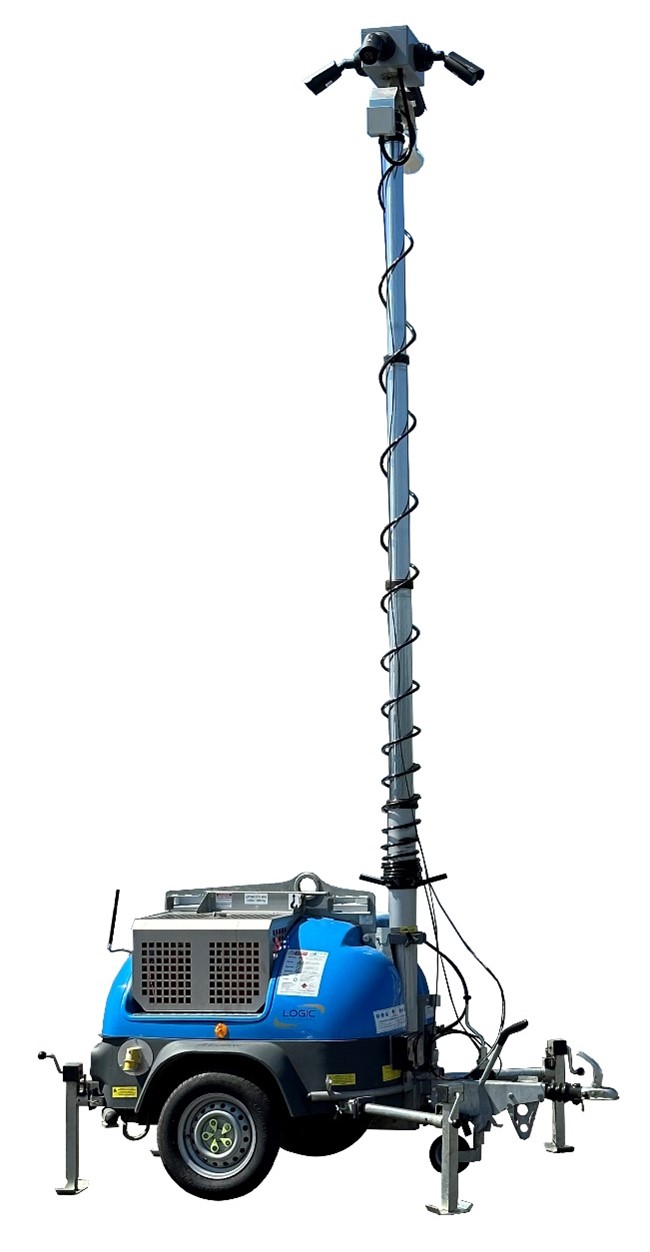 Effortless Setup
Our skilled professionals can have the Mobile CCTV Trailer up and running within just 30 minutes of arriving at your site. This rapid setup minimises disruptions and ensures that you're promptly equipped with top-tier security.
Heightened Visibility
The hydraulic tower, extending up to nine metres, provides unparalleled camera visibility. This feature proves invaluable for large areas or scenarios that demand a broader perspective for monitoring.
Flexible Rental Options
We understand that security needs differ. That's why we offer a range of hire options — daily, weekly, and monthly — allowing you to tailor your security coverage according to your requirements.
Contact us today to learn more about how our Mobile CCTV Trailer service can transform your security strategy. Your safety is our priority, and with Logic Alarms, you're always one step ahead.