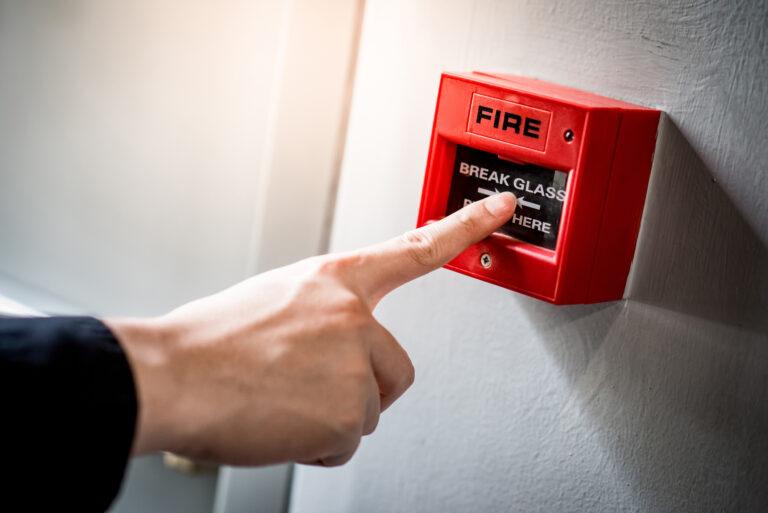 The ability to control fire dramatically changed the habits of early humans. Using fire as a heat and light source made it possible for people to cook food, increasing the variety and availability of nutrients and reducing disease. Furthermore, in cold weather, the generated heat would enable people to stay warm with the flames also keeping nocturnal predators at bay.
While there is some evidence that fire may have been used in a controlled manner about one million years ago, other sources put the date at 400,000 years ago. Fire has been around for a long time, and we are still wary, and respectful, of it. The damage fire can do to you and your property is both catastrophic and heartbreaking. So, what do you need to consider when looking to protect your home or business from potential fires?
Consider The Building's Risks
As part of modern building codes, passive fire protection and active fire protection systems are required to reduce the impact of fire damage on a building. Most developed countries test building materials and furnishings for fire resistance, combustibility, and flammability in order to maximize passive fire protection. The fabric of upholstered seating, carpeting, and plastic used in vehicles and vessels is also tested.
The first step when choosing a fire alarm system should be to consider all the potential risks and threats to the building you want to protect.
Some common fire hazards include:
Kitchen fires from unattended cooking, grease, and chip pan fires
Electrical systems that are overloaded, poorly maintained, or defective
Combustible storage areas with insufficient protection
Combustibles near equipment that generates heat, flame, or sparks
Candles and other open flames
Smoking (cigarettes, cigars, pipes, etc.)
Equipment that generates heat and utilises combustible materials
Flammable liquids and aerosols
Flammable solvents (and rags soaked with solvent) placed in enclosed trash cans
Fireplace chimneys not properly or regularly cleaned
Cooking appliances, stoves, ovens
Heating appliances, fireplaces, wood-burning stoves, furnaces, boilers, portable heaters, solid fuels
Household appliances, clothes dryers, curling irons, hair dryers, refrigerators, freezers, boilers
Electrical wiring in poor condition
Leaking and defective batteries
Personal ignition sources, matches, lighters
Electronic and electrical equipment
Exterior cooking equipment, barbecue
Consider The Building's Size & Layout
When choosing the right fire alarm system, it is vital to consider the size and layout of the building. In general, a smaller building is best suited to a conventional fire alarm system which typically connects a control panel with each device on a separate wire, with devices set up on zones. Because of this, the fire alarm system can identify a zone to help narrow down the location of a potential fire.
It will likely come as no surprise that larger buildings require much more intricate fire alarm systems. If a building has several floors or sections, it is recommended that they are served by an analogue addressable fire alarm system. An addressable fire alarm system assigns a unique address to each device which allows you to identify the exact location of an activated device without needing a single wire connected to each device respectively. These systems are usually customisable and can be set up to control other functions such as shutting down equipment or recalling lifts to ground level. Addressable systems are sometimes known as "intelligent" fire alarm systems.
Should you have a business that is spread out between multiple buildings within the same area, you may require the use of a fire alarm system that communicates with the different areas.  Wireless alarms allow you to manage these multiple locations through a central control system without the use of hardwiring.
Consider Your Business (Or Personal) Needs
It is vital that a fire alarm alerts the occupants of a building to potential danger. It is therefore important that you consider all the potential requirements your system will need to fulfil as there may be multiple scenarios in which a building's occupants could come into contact with smoke or fire.
There are a number of notification appliances that can be used to help alert building occupants to potential danger. For example, fire alarm systems may make use of speakers or strobes to create noise, and the use of strobe lighting can also notify occupants of an alarm. Building safety components like exit lighting or ventilation systems can help ensure that everyone gets out of the building safely.
When choosing a fire alarm system, it is also crucial to consider accessibility needs. Mobility, visual, and auditory disabilities should be accounted for when choosing a system as the way alarms alert building occupants may not be suitable for those who may be hard of hearing, or with impaired vision, for example.
How Do I Get a Fire Alarm System Installed?
A fire alarm system is not just a legal requirement, it is an essential extension of your business, providing protection for your assets, property, and people. Logic Alarms provide fire detection solutions suitable to suit your specific needs for each environment, with comprehensive surveys and discussions, minimising the risk to ensure business continuity.
The most common form of active fire protection are fire sprinklers and fire alarms. Logic Alarms' experienced team design, install, maintain and service a wide range of fire alarm and fire detection systems including wireless technology, analogue addressable, conventional, air aspirating, gas suppression, dry sprinkler powder aerosol, Emergency Voice Communication Systems (EVCS) all available with full Remote Monitoring.
Our Accreditations of BAFE SP203 and NSI Fire Gold provide our customers with peace of mind that they are protected and compliant with current fire safety regulations, and local and national building fire code requirements. Contact us today should you need any advice regarding the installation of a fire alarm system.